The award ceremony of the 54th Pula Film Festival was held on Saturday, July, 21. 2007.
The film The Living and the Dead by Kristijan Milic is the winner of the Big Golden Arena for best Croatian film. The film also won the Golden Arena for best director (Kristijan Milic), best male supporting role (Borko Peric), cinematography (Alen Dragan Markovic and Marko Pivcevic) editing (Goran Guberovic) music (Andrija Milic), sound (Ivica Drnic, Damir Valincic and Igor Fabris) and special effects.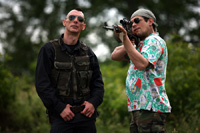 A Jury composed of Arsen Anton Ostojic (the president of the Jury), Tonko Lonza, an acting veteran, Branko Linta, cameraman, Diana Nenadic, film critic and Tamara Obrovac, a musician, decided about the awards in the national programme.
Read the list of all the awarded and explanation of the Juries for the National and International programme.

Read more about the films from the National programme and view the photo gallery.